What is the most dog-friendly alarm system in Milwaukee?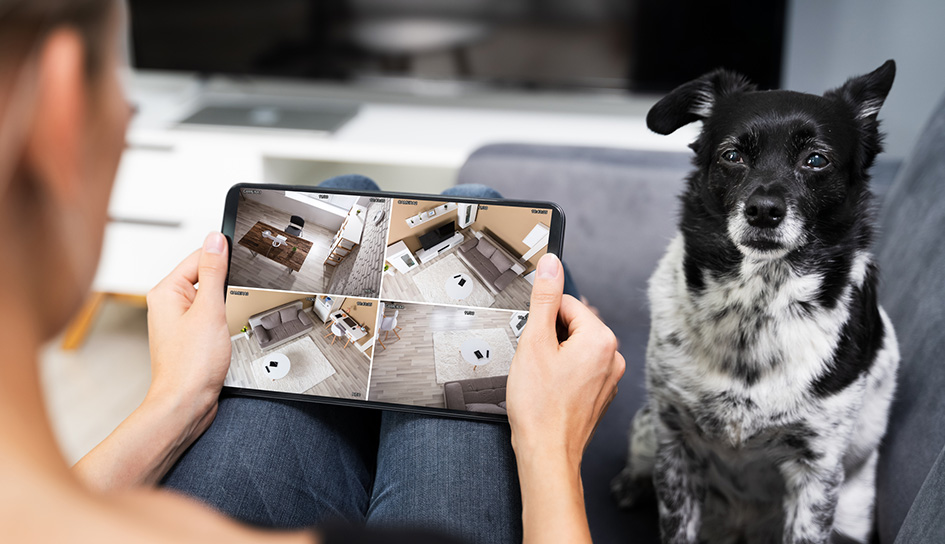 Few things are better than having a dog in Milwaukee. However, quite a few animals can trip alarms on different types of home security systems. And it stands to reason that the bigger your pooch is, the greater the likelihood they could be the source of a false alarm. So don't you think it would be helpful if you could find a dog-friendly alarm system in Milwaukee?
A perfect fit for dog owners, Vivint smart homes offer a multitude of benefits. First, you are able to modify the sensors to ignore areas where your four-legged friends usually wander about. Next, utilize your indoor surveillance devices with high definition night vision and motion detection capabilities to keep an eye on your pet. Third, your dog-friendly alarm system should be simple to use so you are able to rapidly engage and disengage the system as required.
Program your sensors to account for your pet
Current window, door, and motion sensors are more capable of adapting to pets than previous devices. Small dogs or cats shouldn't have any issue averting an accidental triggering of the sensor, as the equipment are capable of adjusting. Larger dogs and exuberant animals will have an enhanced likelihood of false alarms, but you may decrease that chance with a few adjustments on the Vivint app.
Adjust the sensitivity levels of your motion detectors to low. You may even modify the size of the perimeter of the device.
Position detectors away from high-traffic spots, including the favorite napping spot or food bowl.
Deactivate your alarms via your smartphone app before you pull in the driveway -- specifically if your pet is known to bound past the door or window when you're walking in.
Program smart lighting to illuminate to soothe an uneasy dog at night.
Having the ability to handle these modifications ranks Vivint as the top pet-friendly home security system in Milwaukee.
Turn to your indoor surveillance to see what's going on with your dog
Indoor video cameras with 2-way talk are a great way for owners to check on their four-legged companions while away from home through your easy-to-use smartphone app. Your indoor cameras even have the ability to provide a video feed of your pet in in less than ideal lighting in full high-def, so you're able to see what they are doing in the common areas without leaving the bed. Whenever your video components pick up unusual activity, you are able to have a short video segment delivered to your mobile device to ascertain if it's your pet or an intruder.
Your Vivint video components are also fantastic tools for dogs who scare easily. Whenever you find them starting to become distressed, talk to them via the camera's speaker. They will notice your speech and know that it's all right. Or, if you find that they are troubled with the onset of inclement weather, you may remotely flip on a smart bulb to make the scene less alarming.
The best dog-friendly home security system in Milwaukee is easy to manage
All of the dog-friendly options are great, but they wouldn't mean all that much if they were hard to manage. The nice thing about a smart home package like Vivint's is that the many controls are included in both your centralized control panel and your smartphone app. Feel free to set your devices around your unique household -- including the pets! All it requires are some taps of your screen and you have your entire system set up and ready to go.
Get your animal-friendly security system today!
Your home protection package shouldn't need to be a nightmare for your dogs. Alternatively, it should offer an enhanced level of security while helping you create the best environment for your animal companions. Dial (414) 409-5889 or submit the following form today!
Cities Served Around Milwaukee By Smart Security Specialists Your Local Vivint Authorized Dealer